December 11, 2017, 05:01:58 PM
Welcome, Guest
3
on: Today at 04:39:28 PM
Started by tizdaz - Last Post by McGherkin
It looks almost toy-ish, but the Flysky stuff is good, and simplicity is always better.

Are you planning on using FPV?
6
on: Today at 04:05:00 PM
Started by tizdaz - Last Post by tizdaz
Hi guys
i decided to buy a new transmitter as the one i currently own is decent but only 3 chan & i want at least 5ch so off i went on the hunt & came across this..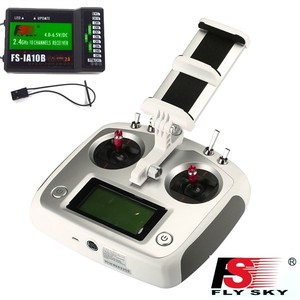 Its a Flysky FS-i6S 2.4G 10CH AFHDS 2A which is basically a Touch Screen 10 channel 2.4ghz budget system (£46 delivered!). Ive been on the RC scene for many years & Flysky which is the brand of this radio is a decent manufacturer of RC radios, many guys i meet up up with regular with our largescales use Flysky & have never had any problems. It comes in a choice of white or black, I decided to be different & go for the white :)
The thing you see sticking out from it is a removable Mobile Phone/Tablet holder.
Will update when it arrives & gave it a once over \o/
7
on: Today at 03:41:22 PM
Started by T33cno - Last Post by T33cno
The brushless motors come with 3.5mm bullet connectors so I've just ordered these three way connectors from components shop
https://www.ebay.co.uk/itm/122185970277
Bear in mind that those 90amp ESC's come with no connections at all
I wonder does anyone know if the jet drive impellers are both the same handed? I imagine they are.
I'm also going to order a couple of sheets of paxolin 3mm & 4mm I'm sure I will use it
9
on: Today at 03:20:40 PM
Started by ukmike - Last Post by tigertiger
I always fit at least 2 locking wheels to work cabs and benches

and use them

10
on: Today at 03:15:06 PM
Started by DavieTait - Last Post by DavieTait
Trawlerphotos...is BACK
The guys found a clean back up , reformatted the server and we are back up online ( still getting the stupid warning from google though... ) , we haven't lost anything by the looks of it thankfully. Looking at moving to a new server with new software as well so all the reference photos you need are still there !!!!!
We dodged a bullet this time but we are determined NOT to let this happen again , I was wrong on the amount of photos as well ... NOT 160,000 but 173,483 yikes and to think back when it started as Trawlermodels we thought 5000 photos would be massive....