Most of the motivation for the Model Boat Mayhem web site came from a certain Kapitain Bill Thomas ( of dubious national origin! ), whom once wrote an excellent series of articles that were published in Model Boats magazine Sept-Nov 1984. These articles was different, these made me laugh out loud!
The series of articles describes the trials and tribulations of designing and building your own working, radio controlled model submarine from scratch. Bill didn't let lack of experience or setbacks hold him back and wonderfully describes the project in great living detail Most importantly, Bill remembers that model boating is a fun hobby and that we mustn't take the whole thing too seriously, after all, we're only talking about 'toy boats'!,

In honour of the funniest article I've ever read about model boats, it's republished here as and encouragement to keep going when everything has gone wrong and a right good laugh! Love to meet you one day Kapitain Thomas.

This article has been republished with kind permission of William Thompson and John Cundell - editor of Model Boats magazine and thanks also goes out to Ron Dean for lending me the back issues.

Martin Davis - Mayhem.
PS. The more observant of you may recognise the style and many phases from my own efforts on this site - "Plagiarism, the most sincere form of flattery!"

"Indeed, it was truly fortunate for the Allied cause that Germany did not have men of my technical superiority designing their boats for them, or the Battle of the Atlantic would have taken a very different course. I really mean that most sincerely. "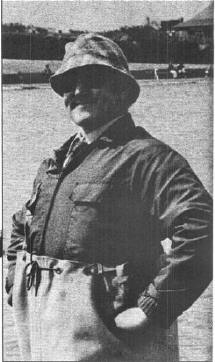 The mighty Kapitain Bill Thomas - Iron Cross & bar!
The once much feared legend of Tynemouth lakes.