The day we went to sea....
....
well for a couple of hours anyway!
(aka, Our 'Uncle Albert' story.... "During the war...." )
Being a middle ages romantic, I decided to take my loving wife and kids ( and best mate ) out for the day ..... to Felixstowe container port! After a long boring drive, we eventually found ourselves deep in the main container hub of the port and lost!.

Before turning back in the car it was obvious that RONDA (LYSEKIL) was being prepared to depart and so having left the car in a safe place my friend and I went and had a quick chat at the dockside with one of the port authority staff to witness the departure. RONDA makes a English Channel run quite regularly and the staff we talked to were informative and very polite and then told us to leave as technically we shouldn't be in this Area! But they told us ever so polite.

Sitting in one of the bay docks with the stern adjacent to the loading ramp, The Ronda's preparations to sail were completed. She still sat quite high in the water as the dock staff loosed the moorings a combination of bow thruster and full Port on the rudder, moved sideways and quickly headed out to sea. It's weird to stand next to a ship leaving dock! think it's because when you normally stands next to something to something that's a big as a building and looks like a building – you don't expect it to move – away from you, almost silently and effortlessly.
We then endeavoured to leave the South dock area, however the exit had to be found first. It is rather intimidating sitting in what soon becomes a very small insignificant car when all around are hug stacker cranes and multi-staked containers. It is even more unnerving when after admiring the ease at which the rubber stacker wheels rotate round 360 degrees on strategically placed metal plates in the tarmac dockside, it then becomes apparent when said wheels (higher than the car) are then rotated in your direction! Stacker cranes seemed to appear from all directions and it quickly became obvious why our presence, whilst tolerated on this occasion, is not recommended.
Safely away from the stackers, we were again distracted by another crane. This time a road crane which as it transpired was being used in an impromptu wheel set change to one of Freightliners main line freight locomotives and soon to be retired Sulzer powered class 47's. The tugs would have to wait a little longer as my accompanying friend, who's father used to work for Mirrlees Blackstone and hence an interest in marine engines, also works on the railway and happens to be a train nut! ( Actually he's just a nut that happens to like trains….)
I've got lots of pictures of the train in bits for any other transporters out there.....
At last we made it to the tug bay which are tucked away from the main docks, near to an grain handling area – it did take some searching out. We were presented with the site of TRIMLEY, BENTLY, MELTON and tagged on the end was DEBEN which had by this time returned home. We had first seen DEBEN an hour or so ago, tethered to the rear of MAERSK – FELIXSTOWE looking almost as if chasing her charge into the port. Trimley & DEBEN are sister ships (with fire monitors), likewise Melton & BENTLY are sisters (But without fire monitors)
The Chief Engineer of DEBEN met us on the dockside and after we enquired whether we could take any photographs we were welcomed aboard and given a guided tour of the engine rooms and main areas of the tug. The enthusiasm for the Engineer cannot be overstated, when approach by two strangers, he was both helpful and courteous despite having duties to fulfil. The Ruston 6 cylinder engines are angled upwards on their bed towards the stern to bring the output shafts from the engine and gearbox sufficiently high enough to top the Azimuth drive units or Z drives depending where you come from, no Graupner or Robbe plastic jobs here!. The Engineer left us for a short while to let us take some photos, but then materialized with two sheets of paper. Without being prompted, he put the papers in our hands, indicated that the skipper of DEBEN had a job on in 30 minutes, if we signed the insurance documents that he had just obtained, we were welcome to joint them. ……as if we would miss this opportunity!!!! And welcomed we were, but not before some rather quick negotiations with the wife!!!! The papers could have said anything – we would have still signed it! However I have noticed since then that a lot of money has been going out of my bank account paying for something called RFTBCLL which turns out to be - Retirement Fund for Tug Boat Crews to Live in Luxury.... Only joking!
With the clock ticking away we painfully slowly exited the dockyard in my diesel tank, sorry non turbo charged Vauxhall Vectra and then floored it into the town of Felixstowe where my wife and family spent the rest of the afternoon shopping and soaking up the seaside atmosphere and my money…….no serious they enjoyed it…..honest!
Having retreated to the docks again were given a tour by the Chief Engineer and Fire officer of DEBEN as she was the No1 call on duty that day but was additionally fitted with fire fighting equipment, which MELTON was not.
One fortunate fact was that as DEBEN is one of the older vessels in the fleet she also has a larger bridge which was like a ball room in comparison to MELTON which we had earlier been on. The skipper us very welcome ( sorry, wrote your name down and looked after the piece of paper very well … till I lost it! ) and we took our positions either side of the bridge out of his main sighting areas and were instructed on safety issues etc. We also tried not to be too distracting given that we were both grinning from ear to ear, like children given their first ice-cream.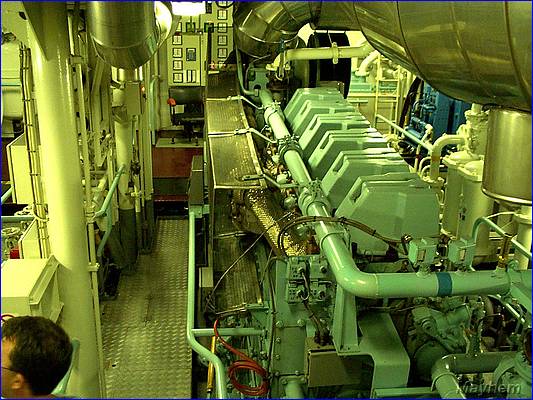 The engines that we closely inspected only minutes before burst into deep throbbing life (peculiarly without any visible signs, just sound and vibration) and with all checks complete, we were off. The control of the steering and propulsion was explained by skipper. Interestingly control of a tow can be done several ways. I though you would just put the props in full reverse but a better way is to build up a bank of water is built up by not turning the azimuth drives in full forward and outwards, port and starboard. This producing less cavitation and subsequent stress on the hull and drive systems. The engines are basically constant speed and variable pitch props. All the time skipper……..was master of his charge and gave us utmost confidence through the almost effortless fingertip control and animated and entertaining commentary.

The harbour and entrance was calm and due to a local regalia that was on, numerous smell vessels were just off the main shipping lanes including a large number of old Thames sail barges in pristine condition sailing fully rigged. All these other boats we easily dwarfed due to the high bridge of the tug , especially some twit on a wet bike who was dully reported to the harbour master over the radio. Fortunately, for the skier, the harbour master were on 'a local needs break', which otherwise could have resulted in a 4 figure fine to the jet skier.
Our skipper noted that the ship we were going out to meet he had not seen before. We were soon at the main entrance to the docks and took station waiting bobbing gently in a very smooth and calm sea. Very soon on the horizon the outline of a container ship came into view. It transpired to be MSC ANIELLO (PANAMA) of roughly 54,000 tonnes, biggest by far of all the ships in the port that day. As she skirted past us we spun round and were very quickly chasing her, This is the only time we noticed a change in engine tone – much more power now! We were informed the harbour pilot had joint her much further out.
Gently bearing down on the ANIELLO and then matching speed, the tow line was secured and we gently lurched forward in a controlled manner taking up the strain, being pulled by the momentum of the much, much larger ship which now dwarfed us. The tow is attached to a huge winch on the bow instead of a fixed bollard which gives much more control and the tug is not pulled along backwards. Bearing in mind that ANIELLO was of 54,000tonnes+, it was surprising to note that the bollard pull of DEBEN is just 35t. When asked how much weight we were actually pulling we were told 35tons,
Us, "How can you tell?"
Skipper, "Our maximum bollard test pull is 35 tons and the rope hasn't snapped yet!!!"

We were now dwarfed to such an extent that our previously considered high bridge was not even level with the main deck of ANIELLO, yet we were now assisting this vessel into port by moving variously from port to starboard and noticeably reducing the speed as she approach and drew up to her berth. At this point we would have already been contented with the proceedings, but then it became apparent the more was to come.
Whilst level with her berth ANIELLO's captain and the pilot needed to turn her around 180o ready for unassisted exit from port (the same as RONDA above). A strange ballet started to take place before our eyes which was a wonder to watch. With very few short but incomprehensible messages between our skipper and pilot the two vessels started to pirouette around each other while still heading for the berth. Occasionally the pilot on the ANIELLO gave a heavy burst of full power to assist, in turn pulling up the silt from the seabed and giving the local seagulls a veritable feast. At no time was any strain lost on the tow and some how during the manoeuvre we were now going backwards and the ANIELLO was following us! ANIELLO was finally nudged into berth on Landguard Terminal. While tying up, the skipper allied full power to the stern while ANIELLO applied full power with her bow thruster!?! When all was pronounced secure by the pilot we un-tethered to bobbed off to back to the tug station.
We had a fantastic time aboard DEBEN and all of the five man crew. They were all extremely hospitable and informative welcoming our interest and enthusiasm, thank you again.
Obviously we heartedly recommend the experience if you also get the chance. All you have to do is ask and the in the majority of cases the crew will proudly show you around the vessels, and if the weather is calm, may also likewise offer the chance of a trip out. The family was duly retrieved from the seafront and the day finished off with good old fish, chips and a long drive home!
Many thanks to Howard Smith Towage, Darren, (Trainspotter) for the write-up and Grahame for the many corrections.
Also worth a look...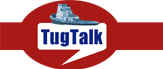 Tug Talk